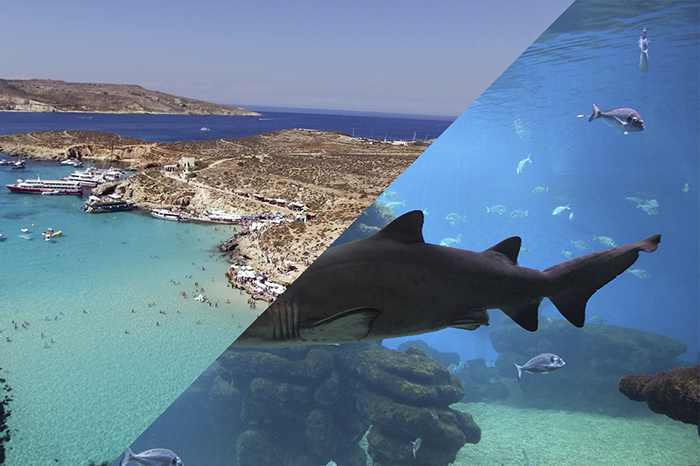 Underwater Safari & Comino Cruise
This excursion extends the term ʺVisit Maltaʺ. Now you can also see what lies beneath the water surface around the island of Comino or discover the underwater world along the north coast of Malta in the unique and purpose-built Katermaran, the first of its kind in Malta.
We offer a spectacular tour to specially selected areas to ensure optimal comfort and viewing pleasure for the guests. A visit to an underwater wreck is also included (good and clear water conditions are required).
From this catamaran, experience the breathtaking spectacle of nature underwater.
Swim in the Blue Lagoon
In addition to the underwater world, visit the Blue Lagoon Comino. There is enough time for guests to swim and enjoy the lagoon.
Family Friendly
This tour is ideal for families. There are, among others:
waterslides
Infant play area
changing table
3x sanitary facilities
Underwater window
Shadow areas in the lower deck
Catamaran
In the fuselage, the catamaran offers underwater windows to view marine life. In addition, there are showers, a play area for toddlers, water slides directly into the sea, a swimming platform, 3x sanitary facilities, 2x snack bars, lots of sun with sun loungers on the upper deck, shadow areas in the lower deck and a changing table area.
What you can see on this tour:
Blue Lagoon
Santa Maria Bay
Santa Maria Caves
Elephant Head
Santa Maria Battery
Madonna Statue
St. Paulʹs Island
Popeyʹs Cave
Crystal Lagoon
Shipwreck P31
Mgarr Harbor
Price includes:
- Visit the Blue Lagoon
- Underwater views
Highlights:
Underwater window
Experience Malta´s underwater world
Comino Blue Lagoon
Crystal Lagoon
Family friendly ambience
Not included:
- Transfer from and to your accommodation