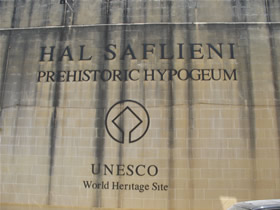 Hypogeum in Malta
Often fully booked as only a few trips per day, and only a few visitors with every tour! Therefore, book as early as possible. Transfer from and to your hotel not included. Combine a visit with another tour.
The Hypogeum in Malta is a temple complex which was discovered in 1902 and subsequently excavated in the years by Fr Emmanuel Magri. The Hal Hypogeum complex consists of several large boulders. The design is truly amazing. The oldest date back to 4000 BC.
Access to the Hypogeum is limited to 10 visitors per tour. Every day there are few tours and tickets are often sold out weeks or even months in advance.
Price includes:
- Guided tour in the Hypogeum
Notes:
Additional services (optional, against surcharge):
- Transfer to and from your hotel
- Special conditions for groups of 4 people
- Combination with other tours available

Group tours are possible at any time (in German, English & French). Please ask us.

Important: Tickets can not be canceled after they have been issued.
Tickets purchased are not refundable or exchangeable.

Your booking is confirmed only after the issue and sending of the booking documents and ticket.