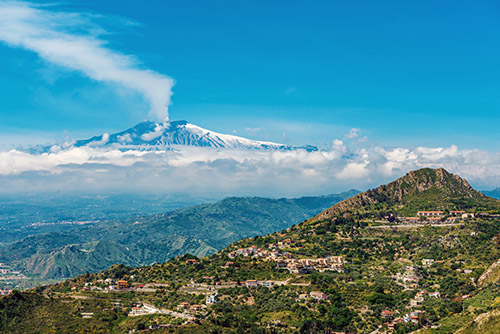 © © XtravaganT - Fotolia.com
SICILY: Mt. Etna and Modica
Sicily is a country of diversity, you cannot do it justice in a short spell of time. It is easy to forget that the Island, population of 5 million, only became part of the Italian state in 1860. We suggest you look out for the ever changing landscape, a feature even on a short trip and it is not every day that you will visit a volcano, Etna; the characteristic hill-top towns rebuilt after the devastating earthquake of 1693 and the affluence of picturesque Taormina.
You might like to try some delicacies, Torroncini (nougat) or Pasta di Mandorla (almond cakes) which are nice to take back home with you. So are some of the local liquors, Limoncello (lemon), Vino alla Mandorla (almond wine) both served well chilled, or an amaro "Averna" (bitter liquor).
Visit to Mt. Etna: The largest and most active volcano in Europe. The climb to the crater takes us through picturesque villages and an ever changing landscape. The lower slopes of the volcano are extremely fertile with groves of oranges, lemons and other Mediterranean flora and of course vines which produce Sicily's best wines. We go through forests of chestnut trees which gradually give way to oak, beech, birch and pine.
Visit to Modica: This proud, prosperous and ancient city is one of Sicily's baroque gems. The main street 'Il Corso', is a typical Italian meeting place with cafés and majestic buildings. The church of San Giorgio is an impressive monument, built after the earthquake of 1693, surrounded by a flight of 250 steps to further enhance the scenic beauty of its fine facade.
Sicily: If your stay is for a few days, do not forget Sicily was once Magna Grecia; the Greek Temples of Agrigento are a unique experience as are the Roman Mosaics at Piazza Armerina. The archaeological sites of Siracusa include the Greek and Roman Theatres and the Cathedral, a former Temple of Athena in the ancient City of Ortegia. The baroque cities of Noto, Ragusa and Modica are minutes away from Pozzallo. Palermo, the capital is a treasure trove; Erice and Cefalu are within easy reach. Shopping in Catania is an experience.
The Iblei Mountain Range is arguably one of the most picturesque areas of Sicily, with a variety of rivers, valleys, canyons and lakes that bring with them a vast flora and fauna, making the countryside around the baroque towns of the Provincia di Ragusa a paradise for lovers of nature. The cities and towns of the region, many of them UNESCO Heritage Sites, are themselves a treasure trove not only of Sicilian Baroque, but also of world renowned Greek and Roman monuments.
Price includes:
HIGHLIGHTS & INCLUSIONS

Ferry crossover Malta-Sicily-Malta inclusive
Arrival at POZZALLO – a typical Sicilian fishing village.
Met by fully air-conditioned coaches, accompanied by guides.
On the way to Mt. Etna we stop to sample some typical Sicilian delicacies, including wines / cheeses / almond sweets and honey; these Sicilian specialities are for sale (no obligation to buy).
Drive up to Sylvester Craters of MT. ETNA (not included) / time for lunch (not included in the price) and souvenir shopping.
Depart Mt. Etna for the baroque city of MODICA to enjoy some free time in the city centre.
Depart Modica for Pozzallo, with a running commentary by the guide.
Depart for Malta by High Speed Catamaran at 19:30hrs.
Not included:
Local Transport Malta (Hotel/Harbour/Hotel) against an extra charge available
Notes:
Family plan: When two adults are travelling together, the first two children (4 years till under 14 years), travel free except for the port service charge, fuel surcharge and local transport (if required).

The itinerary of this excursion may be altered subject to weather conditions.

Virtu Ferries Conditions of Carriage apply. These conditions may be viewed at Virtu Ferries offices or www.virtuferries.com and authorized travel agents.

The company reserves the right to introduce / revise the fuel surcharge from time to time without prior notice.