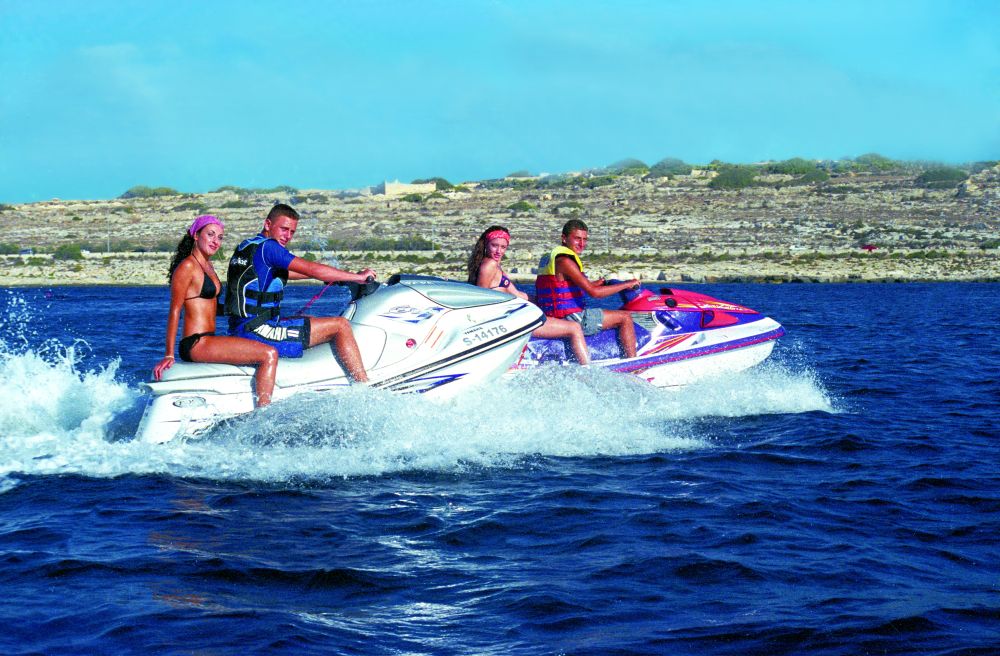 © image: www.viewingmalta.com
Jet Skiing in Malta
Jet Ski Rental in Malta!

Jet skis (also known as jetskis, water scooters, personal watercraft or boatercycles) are incredibly great water sports devices to move relatively fast over water. Probably everybody has already seen these fun water scooters on TV. Some of the most well-known manufacturers of this kind of equipment are Kawasaki (JetSki) and Yahama (WaveRunner).
If you would like to explore the bays in the surrounding area, alone or with friends, family or acquaintances, and would enjoy seeing Malta, Gozo or Comino (the Blue Lagoon) from the sea, you can take home a great experience after a jet ski ride.
In Malta, jet skis can be ridden by one or two people. The first person steers the craft and the second person sits behind the driver, just like on a motorcycle.
The staff will instruct on site about how to use the equipment. Jet skiing in Malta does not require a licence, special permit or a driving licence. Just bring your swimsuit, because you'll certainly get wet when jet skiing.
Jet Skiing in Mellieha
When jet skiing in Mellieha, you can drive inside the big Mellieha Bay by yourself.
Jet Ski Safari (Group Tour)
The Jet Ski Safari is a 90-minute guided tour during which you will explore the bays in the surrounding area. The tour starts right at Mellieha Bay.
Jet Skiing in St. Julians / Sliema
When jet skiing in St. Julians and Sliema, you will have the opportunity to explore the bays by yourself. A driver or a dinghy will accompany you.
Jet Skiing in Golden Bay
When jet skiing in Golden Bay, you can drive the jet ski by yourself, right inside the Golden Bay.
Jet Skiing in the North of Malta (Ramla Bay)
Here you can drive your jet ski outside the bay, between Comino and Malta.
Jet Skiing in Comino or Jet Skiing in the Blue Lagoon
In the Blue Lagoon, you also have the possibility to book jet skis. Here you will also be accompanied by a jet ski driver or a dinghy during your trip.
You may also book jet skis during a day-trip to the Blue Lagoon at Comino and start the jet ski trip from there.
By the way, jet skiing has meanwhile become widespread. Unfortunately, there are only a few dealers / suppliers in Malta.
Jet Ski Group Tours in Malta, Gozo or Comino
Group tours with jet skis are also possible. However, the number of groups is limited due to the number of available jet skis. Please contact us directly to enquire about this.
Rent a JET SKI in Malta now!
Price includes:
Jet Skiing in Malta (St. Julians Bay, Golden Bay, Mellieha Bay, Ramla Bay in Malta or Comino near the Blue Lagoon) for 20 Minutes
Jet ski briefing on site
Life jacket/rescue jackets
Petrol: Jet skis consume a lot of fuel, due to their waterjet drive (watercraft). Please note that these prices include petrol.

During the guided tour:
Staff will accompany you (on the Safari Tour)
Highlights:
Jet ski experience on the Mediterranean Sea
Explore the bays of Malta with a jet ski
Have fun
Not included:
Transfer from- and to your accommodation is not included. We will be happy to offer this as an option. However, you can also reach the starting points very easily, by using public transport.
Notes:
The minimum age requirement is 18 years for the jet ski driver
The minimum age requirement for the passenger is 12 years (the driver is solely responsible for the passenger)
Participants may not be under the influence of alcohol or any narcotics (in this case, participation in jet skiing will be immediately denied without refund).
Rescue jackets are available on site
You will receive on-site briefing. You must abide by the rules, because otherwise the jet ski ride will be suspended immediately without refund.

Participation is at your own risk.