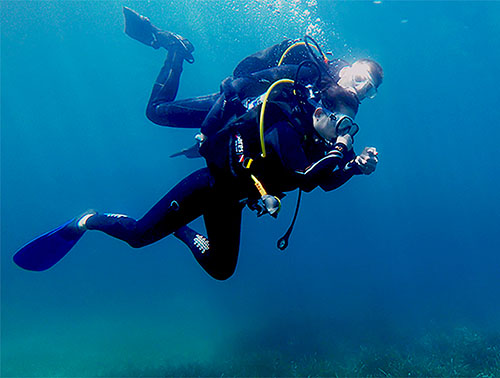 Diving for Beginners
Malta and Gozo are world-renowned destinations for divers. The islands are famous for the clear water and thus offer dives with an incredibly good view of the underwater world. In addition, the islands offer a wide variety of dive sites. There are natural underwater worlds that can be explored, as well as artificial dive sites. For example bomber from the World War 2, sunken ships from the different eras of time and naturally shaped dive sites like the Blue Hole in Gozo.
From your accommodation in Malta or Gozo we organize everything for you!
Transfer included (extra charges apply)!
In the introductory course you will gain a first insight into the diving. Before diving, there is a theoretical introduction.
Price includes:
- Diving with a duration of about 2 - 2,5 hours
- Theoretical training of approximately 45 min
- Full equipment rental

- Transfer to and from your accommodation in Malta or Gozo (extra charges apply)
Notes:
+ Transfer: 40 € for 4 persons
Make your own way is also possible - please inform us when booking, we will send you detailed directions with a map.
Participants should feel comfortable in the water
Swimming is a prerequisite for participation
To be healthy and fit (on-site you fill out a questionnaire / health check)