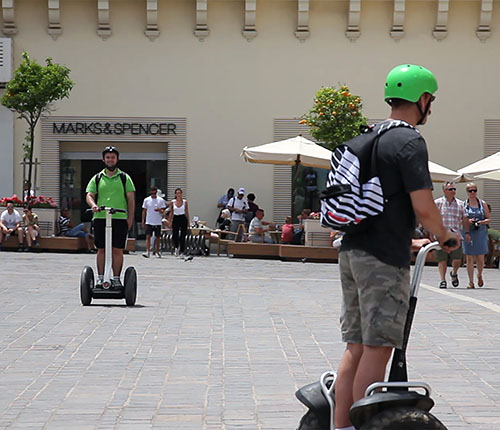 Segway Tour in Malta
Segways (also known as Segway bike, Segway scooter or Segway PT, Segway Perstonal transporter) are electrically powered transport for an individual (similar mini scooters). The special thing about them is that they consist of two parallel wheels, with the person (the Segway driver) standing on a platform (balance board) between the wheels. In addition, a handlebar is attached to the driver. The Segway balances itself. By moving the driver in one direction, the vehicle recognizes it via inclinometers, allowing the Segway to be controlled and moved. The Segway can only be controlled via these sensors (shifting the weight). There are no other controls and, most importantly, no brakes. It takes some practice at the beginning, but then you feel like you´re on a hoverboard.
The
maximum speed of the Segway engine is 20km / h
. Also downhill. The wheels are in front of the driver, so that this is pushed back over the handlebar (speed limit).
With a load a Segway comes about 19km far. The charging time is 8-10 hours.
Segway rental
On-site, you can take a Guided City Tour in Valletta on a Segway outside the city or by Segway. You rent the Segway for this tour from the organizer.
Segway Safety
It is recommended that you wear a helmet. Dangers are mainly in collisions and potholes (especially on the uneven roads in Malta). Do not overestimate yourself, especially if you are on a Segway for the first time. Follow the instructions on the spot.
Segway Tours in Malta
There are 3 tours in Malta where you can drive Segway:
Before the tour, there will receive an introduction on site.
Valletta Segway Tour (Beginner and Advanced)
One of the most popular tours in Malta is the
Segway City Tour in Valletta
. Valletta is the capital of the island of Malta and is traffic-free or calm in many areas. The city offers breathtaking scenery, breathtaking buildings and fortifications, and beautiful views of nearby attractions such as Grand Harbor, Three Cities, Sliema, Manoel Island, and many more. Enjoy the ride on one of the coolest means of transport of the 21st century in a cultural and historical capital of Europe. Additionaly a visit of the Valletta Multivision Show (Malta Experience) is included. This show is available in several languages and shows the history of Malta.
Valletta segway tour: about 1 hours 40 minutes
Multivision show: about 45 minutes
Dingli Segway Tour
The second and third tour take place in
Dingli
. Dingli is a small village on the west coast of Malta. Here you have enough space and a beautiful landscape and views to enjoy driving on the Segways.
Segway Tour for All (Beginner)
The Segway Tour for all is a great tour for the whole family. They slowly learn how to handle the Segways. The route takes us from Dingli to the Buskett Gardens with the adjacent Chateau Buskett.
Duration about 1 hour 45 minutes
Adventure Segway Tour (Advanced)
Above all, the Adventure Segway Tour is for anyone looking for adventure, fun, nature and culture. This is tour takes you from Dingli to Laferla Cross, one of the highest points of the island with a beautiful view of the surrounding countryside.
About 3 hours
Transfer to the Segway Start Point
On request we can offer you a transfer.
Cruise travelers arriving in Valletta and wanting to join the Valletta City Segway Tour do not need a transfer. The starting point is easy to reach on foot.
Groups / Team Building Segway Events
For groups we offer private tours.
Price includes:
Segway for:
1 hour 45 minutes (Dingli Segway Tour: Tour for All)
3 hours (Dingli Segway Tour: Adventure Segway Tour)
or
1 hours 40 minutes (Valletta City Segway Tour + 45 minutes Valletta Multivions show; available in several languages)

Introduction on site
helmet
Highlights:
Ride on one of the coolest means of transport in the 21st century
Explore Valletta: cultural and historical capital of Europe in no time
Adventure and adrenalin
Discover the hinterland of Malta on the tours around Dingli
Try something new and just have fun
Not included:
Transfer from and to your accommodation (optional)
Notes:
Minimum age for participants is 12 years. Participants aged 12 and under 18 must be accompanied by a parent or guardian.
Pregnant women are not allowed to participate.
Segways are not suitable for participants whose weight is below 45 or above 113 kg.
Participants must sign a disclaimer with the provider (organizer) on site. We will gladly send you this after booking.

Participation is at your own risk.