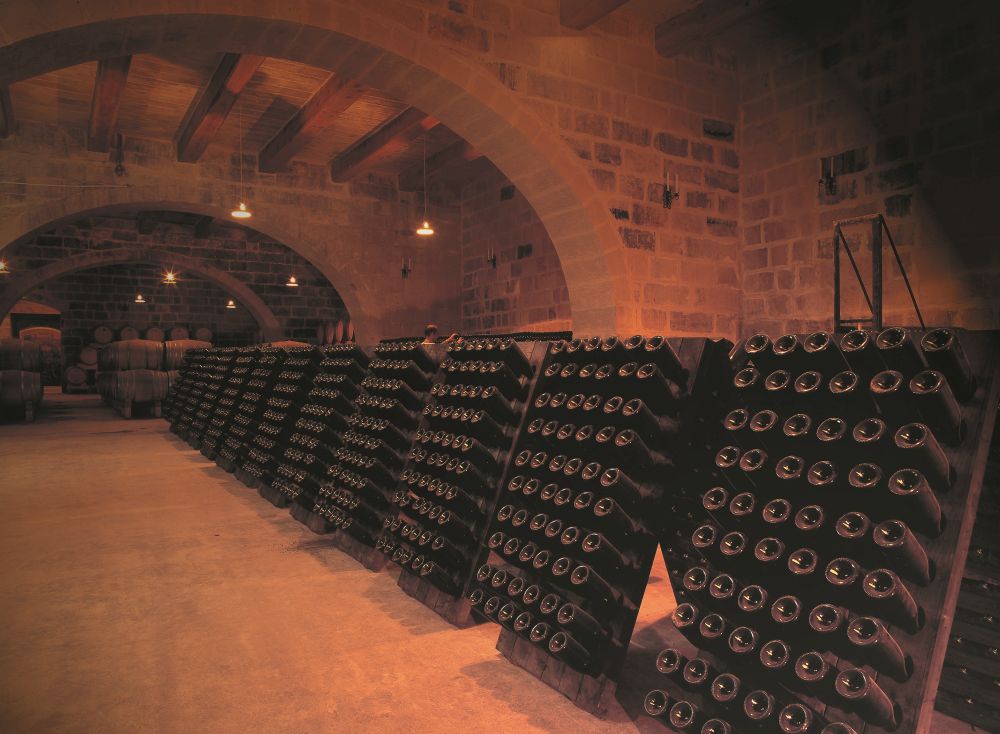 Wine cellar, wine bar and professional wine tasting
For all wine lovers or those who would like to accompany a professional wine tour with wine tasting, we have put together this special wine tour. The tour gives you an introduction to how locally grown vines are pressed, fermented and later turned into wine. You will also visit the four-hundred-year-old wine cellar and participate in a professional wine tasting in a wine bar.
The tour begins with a historic introduction to winegrowing where you will also see some historical artifacts of history. Followed by an explanation of the process of winegrowing.
Then we will visit the 400-year-old, historic wine cellar. This was originally built in the 17th century by the Knights of St. John. Here, in this place, the premium wines are stored for 12 months in 220 French oak barrels, together with the quality sparkling wine.
The subsequent wine tasting takes place in the in-house wine bar. Here, the trained staff will perform a professional wine tasting with you. It is accompanied by local snacks: traditional Maltese bread, cheese platter, galletti and water. Of course you also have the possibility to buy the tasted wine immediately.
Price includes:
Wine tour with explanations of the history and the winemaking process
Wine tasting in a wine bar with 3 wines, accompanied by local snacks
Visit the 400-year-old wine cellar
Duration: approx. 60 - 90 minutes
Highlights:
Professional wine tasting in Malta
Learn more about the wine in Malta and the winemaking process
Experience the history of viticulture in Malta
400 years old wine cellar built by the Knights of St. John
Not included:
Transfer from and to your accommodation is not included (can be booked)
Notes:
Minimum age is 18 years for participation
You should be good on foot, there is only in the wine bar seating
It is absolute no smoking indoors.
Not suitable for wheelchair users or people with mobility problems.