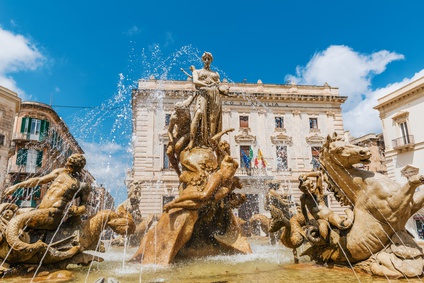 © XtravaganT Fotolia.com
Sicilies eastern coast with Syracuse, Marzamemi and Noto
This is a cultural, historical and gastronomic tour to Sicily´s eastern coast including Marzamemi, Noto and Syracuse. Includes is a typical Sicilian lunch in an agriturismo.
Arrival at
Pozzallo - a typical Sicilian village
. Met by fully air-conditioned coaches, accompanied by guides.
Departure to
Marzamemi
. We visit the
multi colored fisherman´s village
and the Campisi establishment, famous for its´ Sicilian delicacies. Campisi is a leading manufacturer of fish products: fish eggs, raw tuna (bottarga), red tuna, traditional Sicilian sauces, the popular Pachino tomatoes home grown in this area of Sicily.
Transfer to a wine cellar which produces wines from local grapes, particularly the Nero D´Avola and the famous dessert wine Mosato di Noto.
Departure for
Noto - UNESCO World Heritage Site
. The city was completely destroyed in the 1693 earthquake and rebuilt to become The Capital City of Sicilian Baroque. A walk along the main street, Corso Vittorio Emanuele, from the Porta Reale to Teatro Communale takes you to most of the city´s prime sites, notably: Palazzo Ducezio (The Municipale), The Duomo, recently rebuilt after it collapsed 1996 resulting in a national and international outcry, the church of San Carlo and up Via Nicolaci, Palazzo Villadurata with its extravagant balconies.
Departure for a
typical Sicilian lunch
(set menu), included in the price (20 types of antipasto, pasta with sauce, local meat, fruit, water, wine, coffee or liquor).Children´s menu consists of pasta, cutlet & fries, fruit and water.
Departure for
Syracuse
. SYRACUSE – has come to epitomize Greek culture in Sicily, Magna Grecia. The Duomo, in the old city Ortygia, is a converted Greek temple, one of the oldest places of worship and equally as unique.
Departure for Pozzallo with a running commentary by the guide.
Depart for Malta by
High Speed Catamaran
at 21:30hrs.
Price includes:
Guided tour to Sicily
Ferry from Malta to Sicily and back
All transfers in Sicily (air-conditioned coaches)
Visit of Marzamemi, Noto and Syracuse
Typical Sicilian lunch
Highlights:
Pozzallo - a typical Sicilian village
Marzamemi - multi colored fisherman´s village
Noto - UNESCO World Heritage Site
typical Sicilian lunch
Syracuse
Not included:
Local Transport Malta (Hotel/Harbour/Hotel)
Notes:
This excursion may only be held with a minimum of 15 passengers.
The itinerary of this excursion may be altered subject to weather conditions.
The Company reserves the right to introduce a fuel surcharge from time to time without prior notice.
Virtu Ferries Conditions of Carriage apply. These conditions may be viewed at Virtu Ferries offices or www.virtuferries.com and authorized travel agents.