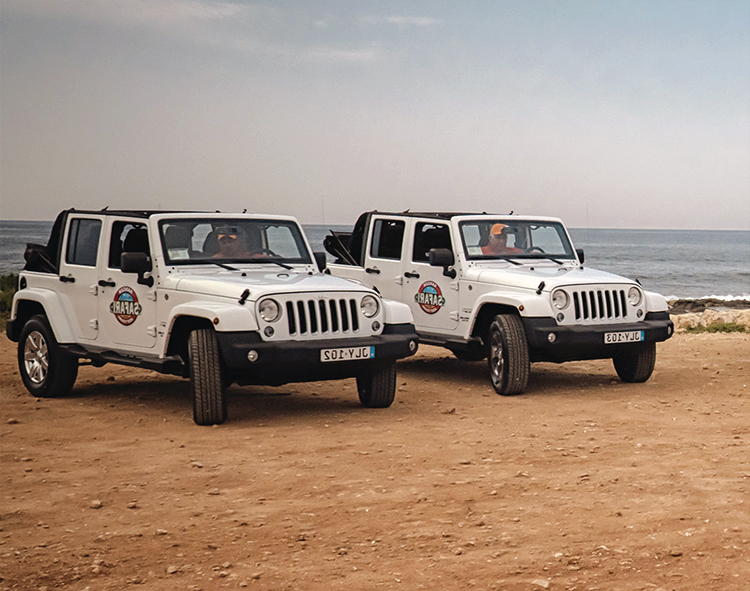 Ranger Malta Jeep Safari
Our latest new adventure - the Ranger Jeeps are the ideal way to transport up to 6 passengers around the island of Malta in style. We have specially created this tour to enable you to experience a terrific day out visiting the whole of Malta in Luxury & Style.
The tour departs from your hotel between 7:45am and 8:15am (please wait outside the hotel to be collected). We drive North to Miżieb and onto the Red Tower and Popeyes Village where we will stop to visit (optional). After Popeyes Village we take an exciting (but safe) off road track and make our way to Golden Bay where we will stop for a drink (optional). After we drive to Mġarr and Fomm ir-Riħ with its breathtaking views. We then head towards Mdina where you will have an approximate 40 minute stop to have a look around the Silent City, Maltas old capital. From Mdina we go to Mosta. Here we stop for a while to give you a chance to visit Mosta Dome. We then visit Naxxar, famous for its curt ruts that curve and twist down the hillsides. We stop here for around 30 minutes, during which you may wander around the narrow alleys and streets, viewing houses that are over 500 years old! You might even want to stop for a drink at the Village Square (optional).
After lunch (not included) we will drive round Valletta, Maltas World Heritage Capital City with great views of the Grand Harbour and then proceed towards Vittoriosa for a 30 minute stop. Vittoriosa, also known as Birgu, was the city founded by the Romans in 200 BC. It was then further developed by the Knights of St. John in 1530 AD. Birgu place the most important role during the Great Siege of 1565 and is also a city packed with historical wealth. From Birgu we head to the Neolithic Temples of Ħal Tarxien (entrance optional) dating back to 3500 BC. After a short visit we then go onto Marsaxlokk Fishing Village, then to the Blue Grotto for a 30 minute stop for those who would like to do the boat trip visiting the amazing cave (optional boat ride - weather permitting). After the Blue Grotto we then proceed back to your hotel and aim to be back by 5:00pm - 5:45pm.
Price includes:
Private Chauffeur driven Rangers

Collection and return direct to your hotel