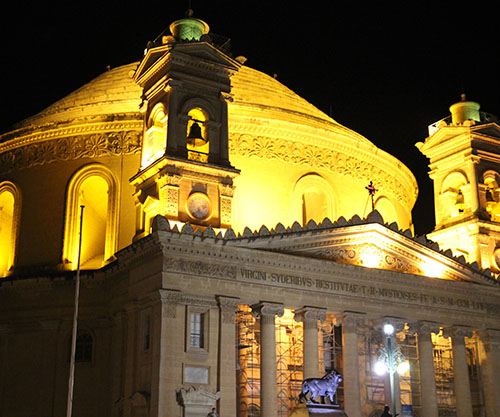 Night tour through Valletta, Mosta and Mdina
Malta is like a large open-air museum. Why? Come on this tour at night and you will experience it yourself. We will visit the most impressive places, Valletta, Mosta and Mdina, by night and you will get a very different picture of the island and the cities.
Valletta is the capital and offers one of the most beautiful scenery with the old town and the fortifications. The peninsula is centrally located on the east coast of Malta and is surrounded on three sides by the sea. To the north is the Marsamxett Harbor and to the south the Great Harbor. Especially at night, when the city wall and the historic buildings of the city are illuminated, an incredibly impressive picture emerges.
Our route takes us around the entire city of Valletta. On the way to the Barakka Gardens you can discover the facets of the peninsula. The artificial, landscaped gardens offer views of the Great Harbor and the Three Cities opposite. These were one of the first settlement points in this region.
Then we visit the Malta 5D Multivision Show. Here you will get an insight into the history of the Maltese islands.
The tour continues to Mosta, where the Rotunda with the third largest freestanding dome is located. The church offers a monstrous sight and is beautifully lit at night. It is said that during World War II a bomb fell through the roof, but miraculously it did not explode and spared the 300 people seeking protection.
We continue to the silent city, Mdina. It is the former capital of the island and like Valletta offers an intoxicating scenery which is also illuminated at night. You will already see the city from afar, as it is located on a hill. This will later give you a beautiful view of Malta´s north. Mdina is smaller than Valletta, only about 500 m² and traffic calmed. This gives us the chance to explore the city on foot. The small illuminated lanes seem to catapult you into the past for a moment. A special highlight is the illuminated St. Paul´s Cathedral.
Tip: Take a short break and enjoy the time in Mdina with a hot drink. Right on the city wall there is a beautiful café, which at the same time gives you a view of Malta´s northern region.
Price includes:
Transfer from and to your accommodation
All transfers between Valletta, Mosta and Mdina
Air-conditioned coach
Admission to the exciting Malta 5D Multivision Show
Duration approx. 4 - 5 hours (start at approx. 19:00 o´clock, return at approx. 11:00 - 12:00 o´clock)
Highlights:
Valletta, the capital of Malta, at night
Mdina, also known as Silent City, with the view of the north of Malta
Mosta and the Rotunda

All cities are usually beautifully illuminated at night and awake to new life in the dark