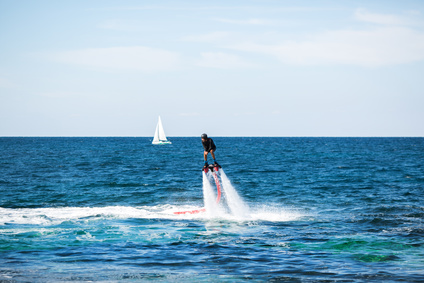 © Artem - fotolia.com
Fly Boards Malta / Hoverboard Malta / Jet Pack Malta
Have you ever been wakeboarding or jetflying? With the Water Flyboard Malta, Hoverboard or Water Jet Pack you can experience the feeling for yourself - in the waters of St. Julian´s Bay of Malta. Although it is aided by hydropower, the feeling is still great. It´s an unforgettable adrenaline rush, but it takes a little practice. However, once you can operate the Fly Board Air or Jetpack Water, it becomes more and more fun. It is an unforgettable experience, that you can take home with you, at the end of your holiday. The Flyboard Air prices are acceptable, compared to the costs in other countries.
What is a fly board, hoverboard or jet pack?
Flyboard, Hoverboard and Jet Pack are devices which can be strapped on the feet (Fly Board and Hoverboard) or on the back (Jet Pack). There are openings on the back or the bottom of the equipment through which water is pumped, at high pressure, via a hose. This creates a water drive that lifts the person forward or upwards. Therefore, Fly Board, Hoverboard and Jet Pack are used exclusively in the water (sea).
How hard is it to control the Fly Board, Hoverboard or Jet Pack?
You certainly need some practice. The majority of the participants manage to handle it within the first few minutes and also, to fly (or hover in the air). It varies from participant to participant. However, it has to be mentioned that these activities require reasonably good motor skills. Additionally, it can be also exhausting. Knowing how to swim is a prerequisite.
According to the on-site staff, the Flyboard is the easiest of the three. The younger generation prefers the Hoverboard. The hardest one, although it doesn´t look like it, is the Jet Pack.
Several participants or groups
There are special discounts available for groups. While one participant is active, the others can watch and make videos or take pictures. Participants can also take turns. You can also switch between Flyboard and Hoverboard.
Where to start?
You can participate in the Fly Board, Hoverboard and Jet Pack either in St. Julian´s/Sliema or at the Blue Lagoon in Comino. If requested, we will gladly offer you transportation. Participation can also be combined with a day trip to the Blue Lagoon, near Comino.
Price includes:
Flyboard, Hoverboard or Jet Pack
15 minutes participation (group discount possible)
Life vest
Safety helmet
Highlights:
The feeling of flying
It is a lot of fun to float and move around in the air
Not included:
Transportation from and to your accommodation facility
Notes:
The majority of participants can handle this within a few minutes. You will participate in an on-site briefing, and in the course of this, also receive guidance and assistance. However, if you are unable to operate the device, there will be no refund.
Minimum age of participation: 18 years+
Participants between 14 - 17 years must have a declaration of consent signed by their parents.
We assume no liability for the participants (travelpoint1 UG is an agent, not an operator).