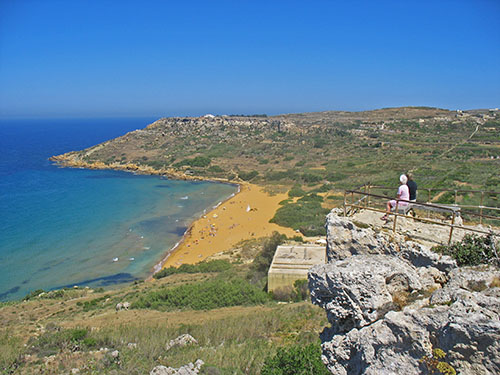 DISCOVER GOZO - Full Day
Gozo, Malta's small sister island, has its very own character and charm, which we will explore on this day tour, full of exciting highlights. After only a 20-minute ride by ferry, we will visit Gozoʹs most beautiful highlights, such as the Citadel in the capital of Victoria, the Dwejra area with Fungus Rock, Inland Sea and the rocky cliffs in Xlendi Bay.
The island's unique and picturesque landscape, with its luscious, rolling hills will surround us throughout the tour. After a delicious 3-course lunch made of the local food (included in the price), we will continue to the fascinating, prehistoric Ggantija temples, the world's oldest, free-standing temple complex - a truly unforgettable cultural highlight (please note that the complex is closed on Monday; on Friday we will visit the basilica instead)! Toward the end, we will visit a typical market, where you can buy souvenirs and popular Gozotian products such as knitwear, handmade laceand local delicacies, such as honey and cheese.
Friday:
On Friday we will not visit the Ggantija temples, but the National Shrine of the Blessed Virgin of Taʹ Pinu which is a Roman Catholic basilica and national shrine located 700 metres from the village of Gharb. The basilica is located in the edge of a cliff in open countryside which allows visitors to enjoy beautiful views of the area.
Price includes:
- transfer from and to your accommodation
- three course lunch
- visit to Ggantijja Temples (except on Monday)
Highlights:
- fantastic full day excursion to Gozo
- Citadel in Victoria
- Dwejra area with Fungus Rock and Inland Sea
- rocky cliffs in Xlendi Bay
- visit to Ggantijja Temples (oldest freestanding temples in the world, except on Monday as it is closed on that day)
Notes:
Ggantijja Temples are closed on Monday
On Friday we will visit the basilica instead of the Ggantija temples